Music & Lyrics by Stephen Sondheim
Book by George Furth
We talked for many years about how we would like to do this musical. Quite a few of us had seen productions over the years and vouched to those who hadn't that this is a show that once seen is not easily forgotten. Not only is the music fantastic with its rick, big band sound, but the book is poignant and cleverly written and entices the audience to want to know more.
Our resident Sondheim director, Ruairidh, was desperate to do this show as it is one of his favourites. Having directed Sweeney Todd, Company and A Little Night Music, we knew it would be in safe hands His vision was to make the most of starting at the end. When we first see Frank he is looking at his life which is represented by a pyre of his belongings and memories. Ruairidh's concept was to see this pyre dwindle as we went back in time with the story, thereby underlining the stuff we accumulate along our way and how there is a time in all our lives when things were much simpler then. The audiences got this and with the help of a few bits of clever signage they didn't get lost in the reverse narrative.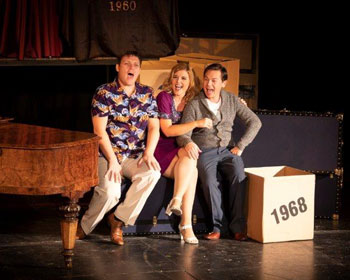 This is also one of our musical director's favourite shows. Chris only had 10 weeks to get this fiendishly complicated musical together. But he did it. Thankfully our committee also felt that a larger than usual band was also needed to do justice to the lush score. So with an eight piece band, the like of we have not seen since Evita, meant that there was a wall of sound each night and, unusually for this company, we had the overture and the entre act. Chris made the most of everybody's performance and was a very supportive coach.
The production was managed brilliantly by Paul who also took the lead on costumes aided, as always, by Fiona. The costume ask was big because we scanned 20 years of the 20th Century from flares back to circle skirts. So everyone had at least 8 costumes not just for scenes but for the transitions between them. Everyone commented on how authentic the look was. Add into the team sound and lights, Laura and Kevin, meant that we sounded perfect every night (everybody was mic'd so it was technically very complex) and looked good, bathed in warm amber tones.
Out front we had a very strong line up with the main protagonist Franklin Shepard being played with assured swagger by Shane Rose-Goodsir. Shane managed to get across perfectly his character across the tie line from outwardly confident 1976 Frank, but who was screaming on the inside, back to the hopeful Frank of 1957. Explosive at times, ambitious always but also tender and vulnerable. Alongside him was Kristian Zgorwelski as Charlie Kringas, the wise cracking lyricist of the team. Kristian has a natural comic timing which was put to good use especially in the tricky Franklin Shepard Inc number which is reminiscent of many a G&S patter song. Finally, the threesome was made whole by the delightful Hayley Toms as Mary Flynn. Hayley was pitch perfect in every way ensuring that the audience empathised with her pain every night from her argumentative drunk right back to the fun, hope filled young woman on a rooftop in New York.
This exceptional frontline was joined ably by another equal strong threesome. Ellie as the ambitious Gussie Carnegie, Steve Hopkins as her doting third husband and Claire Corbett as Frank's wronged wife. All of them had the right amount of pathos and explosive emotion as well as beautiful singing to make up a very strong principle cast.
However, Concept is nothing with out it's bit players and cameos. Paul, Carys, Cat, James, Lisa, Fiona, Tony and Chris all played their parts well, each having a small piece in Frank's story. The rest of the ensemble was in fine voice and with the effervescent Adam Pitt's choreography, ensured that they really were the "movers and shakers" of the tale. Adam's setting of "The Blob" in particular was brilliantly funny and perfectly captured the intent of the piece.
This show is without doubt one of our most favourite. High demands were made of the cast and crew (thanks Cat for all you hard work backstage!) Production standards were as high as always and we can be fairly confident when we say that something was stirred, it did begin and it was absolutely fabulous darling!