Music & Lyrics by Stephen Sondheim
Book by Hugh Wheeler
From an Adaptation by Christopher Bond
Sweeney Todd is without doubt one of the most difficult shows to stage in so many ways. It is a very challenging to sing scary notes, tricky tempos and omnipresent underscoring, making it a wonderful but difficult cacophony of sound. It is no wonder that this show has joined the repertoire of several grand opera companies across the globe and is rarely put on by amateur theatre companies. We then add to this the challenge of touring it to different theatres and you begin to see that this is most definitely not a walk in the park. However, if there is one company that can pull this off, Concept Players can.
Concept Players had been dying to do this show for years (no pun intended!) so it was a with trepidation that Ruairidh volunteered to direct this show. He tackled the setting of Sweeney by keeping the original setting of Victorian London, but through the use of props, lighting, staging and costumes stylised it to bring out the macabre, colourful elements rather than just the creation of another period musical.
Through the hard work of the principals, the company, our MD and the musicians, the result was a spectacular show. Richard Thomas, yet again, did wonders with the choreography - the opening of Act 2 was fantastic, as was the lunatics' City on Fire. The costumes (all beautifully made from within the company) and lighting design were all used to good effect, and when added to the stunning make-up designs of Liz Howson, a unforgettable show was created.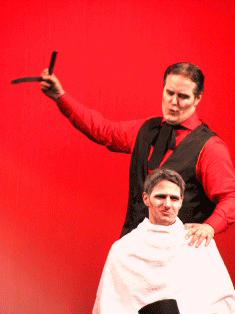 Ralph Thomas as Sweeney gave a performance of a lifetime and many, many people commented on his disturbing portrayal of a man bent on wreaking revenge. Janet Holloway put in a stellar performance as Mrs Lovett whilst the role of Johanna was beautifully sung by Rhiannon Rose. For Rick Thomas this was his first principal part, and he acquitted himself well. The role of Beggar Woman was brilliantly played by Lorna Welch who got the right balance of pathos and vulgarity! And as for the Judge's flagellation scene - there was a hush ever night as Laurence bravely took off his clothes and whipped himself to a frenzy - he had the bruises to prove it!
Overall, a wonderful show which showed the very best of Concept's talents.