Music & Lyrics by Stephen Sondheim
Book by George Furth
This was a show that Ruairidh had been desperate for Concept to do for years but it requires just the right cast and just the right setting. Luckily the stars and planets were in alignment and we pulled off one of the most successful shows we have ever done.
For those who don't know the show, Company concerns the life of Robert and his married friends who are for ever pressurising him into thinking about marriage. Add into this, his three, very different, girlfriends and you have the basis for this groundbreaking piece of theatre. Why groundbreaking? Well, when first debuted in 1970 it broke the mould of generations of musical theatre. This has no contrived plot, only a series of scenes, more akin to a review and with devilishly difficult music and lyrics about the topic of marriage which had never before been so brutally laid bare.
We had a great cast. Simon Riordan had joined us for Anything Goes and came out top in the hard fought audition process for the coveted role of Bobby. His charisma and pathos was brilliantly acted in a varied performance which anyone else less confident and experienced, would have failed in. Surrounding him was a bevy of beautiful girlfriends, Hayley Toms, Claire Couldridge and Ellie Hoare who showed their individual talents in their scenes. Bobby was told in no uncertain terms not to mess with them in the catchy You Could Drive A Person Crazy.
The opening of the show is the very difficult Company number, all solo voices coming together in a cacophony of music which resolves into a wall of sound. Each of our performers were more than equal to the challenge and worked incredibly hard to make sure that the opening was one our audiences would not forget in a hurry.
Paul and Fiona as the battling Harry and Sarah set the comic scene as they fought with considerable viciousness and wonderful timing during The Little Things You Do Together. This was the second time they have been paired together (the last was Lend Me A Tenor) and they worked brilliantly together. For this show we had four new people join the company, Helen Stubbs, Claire Hovey, Steve Jones and Alex McLaughlan. Claire and Steve were in top form as the brittle southern belle Susan and the confident Peter, delivering their lines with precision and great humour. Helen was partnered with Richard Thomas as they portrayed the uptight Jenny and compliant David. Helen ensured that, what could have been a very transient character, was played to the full and her partnership with Richard was totally believable; the dope smoking scene was hilarious before anyone had really spoken a word!
The wedding scene has to be one of the most memorable in Company with the neurotic Amy, here being played by the talented Cat Dafydd, and the long suffering Paul played by another Concept newbie, but a Sondheim veteran, Alex McLaughlan.
Cat's incredibly difficult patter song, not too dissimilar to those G&S ones, was perfect and Alex was very believable as the jilted Paul. Finally, Helen Windsor and Ian Phillips as Joanne and Larry. Helen had been seen last as the excitable Evangeline Harcourt in Anything Goes, now she was to play the somewhat bitter but vulnerable Joanne. Luckily she played against someone who she has acted with often, Ian, who was last seen with Concept when we did Iolanthe. Helen gave a bravura performance, particularly in her heart stopping rendition of the classic, Ladies Who Lunch. Ian with his smooth dancing on his entrance to the scene had the audience in peals of laughter.
A mention too for the set - it deserved a place on the bill itself. Designed by Ruairidh, but made a reality by Roger, the light boxes made possible the fast paced action as they changed colour to denote the changing scenes and places in the play. It also conveyed the core element that Ruairidh wanted, one of colourful luminescence. He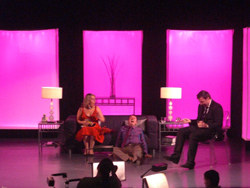 was from the outset determined not to follow previous successful productions seen on Broadway and the West End, but to find our own ground, playing to Concept's strong sense of comedy and high production values. This ensured that the cast and the set radiated out into the darkness of the auditorium each night. Mention too for the exciting and manic choreography of Richard, who once again showed how multitalented he is, not only doing his own great performance but ensuring we looked good as the company danced in the high energy number that was Side By Side By Side.
We also had great support from those backstage. Kevin and Ellie on the lights coped with the director's demands admirably well (without killing him), whilst Laura rose to the challenge of probably the most fiendishly difficult mic plots we have ever had. Denise and Bev were also on hand backstage, extinguisher in hand!
Most people did not know know what to expect from this rarely performed show so it is great to know that we have had such positive feedback. "Not one weak link" was the most commonly heard phrase alongside "The best thing you have ever done" - well, let's see what the next production is like first - one thing with Concept we don't like to stand still!