Music & Lyrics by Cole Porter
Book by P.G. Wodehouse & Guy Bolton
New Book by Timothy Crouse & John Weidman
and Howard Lindsay & Russel Crouse
This has to be one of the warmest and funniest shows in musical theatre and has been wowing audiences since its inception in the 1930s. Our production set sail for Abergavenny in March 2010 for a few days and then arrived in Penarth. This was not to be any old production: we had our usual constraints, we had to afford it and we had to get it all in one van! Directed by Paul Buckle (who also directed our extremely successful Fiddler On The Roof and before that Orpheus) he was determined that we would not have any clunky sets and wanted lots of pace!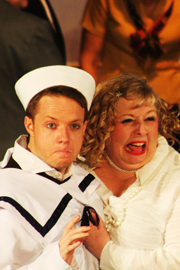 Taking a show to two very different venues is a real challenge - different facilities, different stages and different heights so we needed a flexible set which would look great but not detract from the talent on stage. Thanks to the set team this was achieved. Paul also took all the inside cabin scenes and made them out door ones, thereby getting rid of scene changes and stagehands on set, add in some very clever lighting and some great props, the effect was wonderful.
But the show is nothing without the performers and for this show we we joined by a couple of new members, Alex Powderhill as Reno Sweeney and Dan Parker as Billy Crocker. Alex has a fantastic voice which did Cole Porter proud and Dan's comic timing made every scene whizz by. Accompanied by a very strong support cast of Ingrid Bastable, Helen Windsor and Nick Pratt, and not forgetting the scene stealing antics of Richard Thomas as Moonface Martin and Claire Couldridge as the archetypal gangster's moll, Irma. Special mention too for the effervescent Tim Brown, his portrayal of the archetypal chinless Sir Evelyn Oakleigh was spectacular, turning him into a passionate cape wielding gypsy! Add in the motley crew and passengers (and not forgetting the sexy sirens of Lorna, Ellie, Heledd and Fay) it was a great ensemble. Everyone was put through their paces as this was a heavily choreographed show with many people tap dancing for the first time! Richard and Ciara did a brilliant job, getting us all to move as one intricate mass. It was incredibly hard work but it paid off.
As special mention must be made for the costumes. Over a hundred were need for the cast and the exacting Wardrobe Master wouldn't allow anything bar perfection! Many of the costumes were in the end made to measure by the wardrobe team from authentic 1930s patterns, and the Angels and Reno in particular looked very glamorous.
The audiences we had for this run were some of the biggest we have ever had and seemed to enjoy every aspect. We nearly sold out which is a great feeling and this show must be one of the most fun we have ever done and we enjoyed every minute of it.