By Jacques Offenbach
Original Libretto Hector Crémieux & Ludovic Halévy
Musical rearrangements by Paul Buckle & Jo Herco
Additional Libretto Paul Buckle, Janet Holloway & Nigel Holloway
This was a real labour of love for the Director, Paul. Back in summer 2004 the Committee had a long, long discussion about what the next show would be. The decision was made that Paul would make his directorial debut with Offenbach's comic masterpiece. But this was not to be the usual Joseph Weinberger version which most amateur societies do, no, this was going to be based on the original score and with a new libretto.
So, with much rewriting later, with help from Jo Herco on the music and lyrics, the new libretto from Nigel and Paul with additions from Jan, the piece was ready. Rehearsals went well though there was a lot of absence due to illness but come opening night it all came together. It was one of our most stylistic shows, on a par with our Mikado. Much of this has to be down to the costumes which were designed by Leigh with help from Lizzy on the third act masks. Months had been spent creating cushions of various sizes and every night there was a gasp when the audience saw the opening of Act 2 - that was fantastic!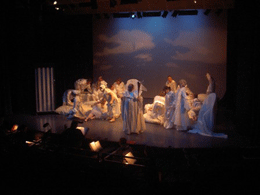 The show should really be called Eurydice and the Underworld as she seems to sing the most; Ellie was superb and Wayne, in his first principle role for Concept worked very well with her. Jan was a very frightening Public Opinion; a concept based on the original operetta and one which took us all a little time to get our heads around. She is basically a Greek Chorus, narrating at the beginning but then playing a part in the action. And there was plenty of action. Pluto was played wonderfully by Edward and Nigel was a commanding Jupiter. We had the ultimate dramatic scare when our Juno, Cat, was taken ill the day before opening, but Fi stepped in wonderfully and thankfully Cat was well enough to join us in Penarth. Cat's second role was as Assistant Director and as choreographer - all this can-can music and everything but the traditional can-can - the audience loved it. All the cast seemed to have a ball, much fun was had, particularly at the end of Act 2 with the great, big pillow fight!
So all-in-all the look and the performance was brilliant - what we do best - take a concept and make it Concept! The singing was first class even if we do say so ourselves - there was so much of it! We also got the opportunity to visit Pontypridd, which, due to the lovely reception we had, we hope to visit again. Overall a great production, thanks to all that made it happen, from the backstage crew, the band, the cast and the production team - it was well worth it!