By W.S Gilbert & A. Sullivan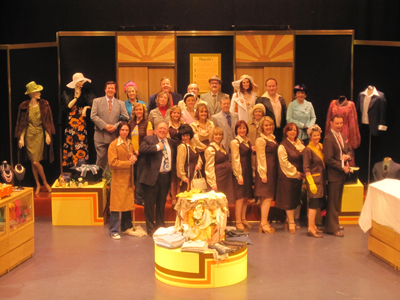 "an enviably talented cast and company" NODA
It is a brave director who tackles Gilbert and Sullivan differently and an even braver one who does it with Concept Players. Known for our different approach to G&S it is always important to get the balance between change and tradition, one which Paul Buckle struck so marvellously in this production. Taking the inspiration of the staff hierarchy of the 1970s classic BBC comedy Are You Being Served?, he bypassed the traditional white faces and Japanese costumes, to bring us a riot of colour and humour. To be clear, very little was changed in the libretto and only the two patter songs "I've got a little list" and "A more humane Mikado" were changed to more topical content as is tradition itself - wonderfully done by Paul and Nigel respectively. The rest was quite traditional, in its own way!
Paul's first challenge was to ensure that by transplanting the show into such a clear cultural reference of the 1970s that it was instantly recognisable as such. For this he has to thank Liz Howson and Roger Thomas who, ably helped by Keith and Fiona, ensured that the set was indeed a close replica of the famous BBC set. This was made possible through some judicial help in dressing the set from friends at the leading high street store, House of Fraser. It was the eagle-eyes of Laura McMahon and Ruairidh MacLeod-Lyon that ensured that it was all brought together with the right props, set dressing and their infamous eye for detail. We knew it was all artistic success when staff at the theatres were saying 'It looks just like Are You Being Served', before we had even started!
One thing was clear from the start; Paul was going to need lots and lots of costumes not only for the cast, but for them to try on and to dress the set. The company donated many of costumes and these were set off with choice pieces borrowed or bought to give the authentic feel of the period. Hats, shirt fronts, wide lapels, flared trousers and platform shoes (the shop girls 'loved' their matching shoes - not!) were the order of the day. Ruairidh was again wardrobe master, backed by formidable help from his costume team. Special mention for Anne, who made all the blouses, and Fiona, the dresses for the shop girls - it ensured a complete 'look'.
Paul was delighted to have such a strong cast: welcoming back his previous co-star Neil Davies (Man of La Mancha) after an absence of some years, last seen in Die Fledermaus. We also welcomed back Janet Holloway whose seminal rendition of Katisha, the forsaken dragon of a fiancée, was a performance which captured the ferocity, comedy and pathos of this pivotal character. Nigel Holloway, most recently happiest in the orchestra pit, also rejoined us on stage and got the comic timing and madness of Pish-Tush just right.
Joining the old Concept hands, were Helen Stubbs as Yum-Yum and James Rockey as Nanki-Poo. Helen joined us for Company and has been a fantastic addition to the company (no pun intended) as she is the perfect blend of acting and singing talent. This was James' first outing with Concept but he has done plenty of other acting and singing (including of G&S) on the amateur and professional stage and was a fantastic leading man whose voice was, as one audience member wrote to us, 'The best Nanki-Poo I have ever heard!'. Praise indeed.
Helen was supported by her two maids, Pitti-Sing and Peep-Bo a.k.a. Cat Dafydd and Denise Freer. Cat was the mad Amy in Company and was brilliant with her comic timing and luscious voice. Denise was propelled, after only two shows, into the front line as she played the somewhat spinsterish, bitter maid perfectly. Add to this Lorna Welch as an anti-fur protester, Ruth and Rob Purnell as a pair of incredibly devious shoplifters, shoppers who loved to shop, husbands and fathers that needed persuading and, all in all, it was your average Saturday in the high street with knobs on!
Finally, where would the cast be without The Mikado? Kevin Morgan has played all the main G&S roles in his time (some more than once or twice) but had never been the 'main man' in this one. As always, though heavily involved back stage, he gave a polished performance both in the first act (heavily disguised with hat and fake moustache) and most importantly in the second, as the doddery Mikado with his beautiful nurse (Jo Howson) in tow, perhaps that's what kept his character so perky!
Our perfectly formed band of Mike and Dave were led by our new Musical Director, Ben Davies, who kept us on the straight and narrow. We had great behind the scenes crew led by Laura with help from Terri, Linda, Sophie, Ruth, John and Geraint. A top team!
So did it work? You'd better believe it. We had rave reviews! Most could not imagine that the marriage of two things works so well. The action was well paced and constant and the Act 1 Finale sale scene (the O ni! Bikkuri Shakkuri To! bit) had to be seen to be believed and brought the house down as the devious shop staff tried to keep Nanki-Poo's secret by having a frantic war of discounts! We can definitely say that Paul brought us a most memorable G&S and one that, for those who saw it and took part, will not be forgotten in a hurry!