This wonderful play follows the machinations of Algernon and Jack, who fall in love with two girls, who have the unique requirement to marry someone with the name of Earnest. It is hardly surprising that the course of true love seems determined not to run smoothly for the two couples, aided by a wonderful array of characters, including Lady Bracknell, one of the greatest creations of English literature.
The script sparkles with some of Wilde's most hilarious wit, light-hearted satire and dazzling humour.
Paget Rooms, Penarth - 28th to 30th June 2017
Concept Players' Box Office: 029 2049 0019

Our September show is:



Tickets on sale for Penarth (14th to 16th September) and for Abergavenny (21st-23rd September).
With its irresistible blend of hip-swivelling hits, eye-popping fashions and outrageous dance moves, SHOUT! The Mod Musical takes audiences back to the music, style and freedom of the 1960s. SHOUT! features terrific new arrangements of such classic tunes as "To Sir with Love", "Downtown", "Son of a Preacher Man" and "Goldfinger". This musical follows five groovy gals as they come of age during the decade. SHOUT! chronicles the dawning liberation of women, from the rise of Dusty Springfield, Petula Clark and Cilla Black as independent women with major careers, redefining themselves in the face of changing attitudes. With a shimmy and shake, the songs are tied together by a hilarious script. Don't miss it!
We have just finished a very successful production of Evita. Thank you to our audiences. It was a very special production for us and we enjoyed it immensely. A full show report, with photos and our NODA review can be found here.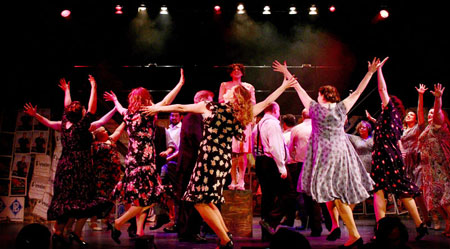 Thank you everybody who came to see this Rumours. We visited Penarth and Abergavenny with this funny Neil Simon play and had a blast. We have just won a NODA District 3 Award for Best Drama. Well done all. A full show report and pictures to be found here.
Our Friends of Concept patron scheme is one of the best you will find.
For a small fee you get a host of benefits including early booking and preferential seating.
Take a look at our Friends Of Concept pages for more details.
Ever visited our webshop? Why not take a look and grab a bargain and help us along the way. The prices are the same as you will get by going directly to their sites but if you go via us, we get a small commission which goes some way to achieving our running costs as a society.
So please help us out and get shopping!
.