By Oscar Wilde
This was a wonderful production which was acted superbly by a very able cast. Everybody on stage was excellent - the pace of the play was very good and the set design whilst simple, looked fantastic. We toured South Wales in September 2005, played two nights in Abergavenny to surprisingly large crowds for a Tuesday and Wednesday night and to good houses in Llanover Hall, Canton, Cardiff on the Friday and Saturday. We unfortunately had to cancel our booking at Port Talbot due to poor sales of tickets which was a real shame but not doubt we will try and venture back again at a later date. It is in our constitution that we travel and it is always important to try new venues, but sometimes it is a gamble that does not pay off.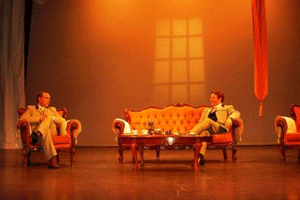 Initially it was hard work for the cast as the play seemed so very "wordy", however, everyone was very keen to do Oscar Wilde justice and by the time of the dress rehearsal we had got to the magical moment of being ready for an audience. The set looked really good, simple but very stylish and the costumes were very good. Clare even made her two dresses which is a major feat considering she had only given birth a few weeks earlier in July. Special mention for Angie who came in at the last moment when someone dropped out; her Prism was very funny and even got a round of applause one night when she exited a scene. Special mention too for Lisa, who came in very late but managed to steal the show with some judicial bum scratching!
Clare played Cecily as a chip of the old block and Jan's Lady B was most definitely an old block but rather than just play a battle-axe she had the right amount of humour as well as battleship qualities. Steve and Paul yet again proved they work wonderfully well together, a bond of trust that results in an ability to keep the pace up with confidence and immaculate comic timing. And finally to Kevin's Chasuble, whose pomposity was wonderful, especially when tested by the amorous Prism!
All in all a success for Concept and, judging by the very warm reception we had from our audiences, we will be returning to Oscar at a later date!