Music & lyrics by Frank Loesser
Book by Abe Burrows, Jack Weinstock & Willie Gilbert
Based on the novel by Shepherd Mead
This must be one of the longest show titles in the world and a show that nowadays very few people know. Once a huge prize winning hit in the 1960s, it is now largely forgotten though we were helped by the recent revival on Broadway. But our version was to be different in every way.
Janet returned to the director's chair for this one and her vision was one of simplicity - eschewing traditional scenery for just a few boxes. She worked out all the box moves for us using children's wooden blocks; each scene would be constructed and deconstructed using the boxes to represent the different areas of the World Wide Wicket Corporation's building. Sounds simple enough, doesn't it? Well it was in theory but add to that a large cast and two different stages, there was plenty of room for error. The boxes were routinely cursed but by opening night they were part of us, balletically moving at the ends of our arms. One patron was heard to comment that the effect was wonderful and scene changes were never as interesting as this before. We even got a round of applause one night for the washroom scene.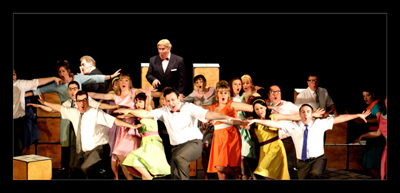 Boxes aside, this fun musical was a hoot. Under the direction of Dave, our MD, singing matched the energetic moves of our choreographer Richard who drilled into us the numerous and complex dance numbers, culminating in the show-stopping Brotherhood of Man. Additional choreography was provided by Janet and Ingrid. The set may have been envisaged by Jan but it was made a reality by Liz who designed their construction and their artistic design. Painted by Liz and Paul they included the art work of Ruairidh's poster design. People were no doubt intrigued ever night when they saw the "book" on stage before we deconstructed it. We were lit by the father-daughter team of Kevin and Ellie and helped backstage by Ruth. We were made audible every night by the talented Laura McMahon (who also kept us right at every rehearsal with her eagle eye). A special mention has to be made for our costumes; Fiona and Paul did a fantastic job of creating all the ladies dresses (including the fantastic Mondrian style dresses for the cat fight that is Paris Original) and sourcing all the accessories - the effect was very colourful and professional.
On stage we had a very strong line up led by the ever energetic Simon who was nearly on stage throughout the show and not only had to act his socks off, but also sing and dance like never before. It was a bravura performance! He was ably assisted by his love interest Rosemary played in a effervescent, bright and peppy (and equally determined) way by Ellie. Neil returned to give the front line gravitas as JB Biggley, the boss, invariably playing the straight-man to all those around. Concept newcomer Andrew was excellent as JB's snivelling nephew Bud and Helen stole the show as the voluptuous Hedy Larue, JB's paramour. JB and Hedy's duet had them rolling in the aisles every night. Bev was the indomitable Miss Jones and Claire the wisecracking friend of Rosemary, Smitty, who was quite wise to Finches' charms. All-in-all, a stellar cast aided by many cameos such as Richard as Bratt, Fay as Miss Krumholtz, James as BBDO and Howard as the faithful company man, Mr Twimble as well as Chairman Mr Whomper. We had the usual Concept cast behind in the chorus, never a dull moment, all ensuring that the show was cohesive and fun.
Our performances in Penarth and then Abergavenny were all very well received and we had good audiences and if their reaction every night is anything to go by, it is safe to say that we succeed with "How To Succeed!"